What's Happening In Finance and Property Right Now?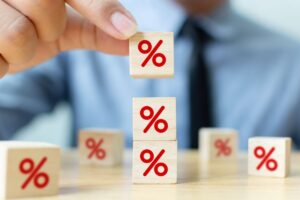 Amidst the rollercoaster of lockdowns and the ongoing restrictions in our largest city, life goes on in the world of finance and property!
Overall, it appears that the economy is strengthening despite the hardships suffered by many businesses – especially those hit hard by the Auckland lockdown.
There have been some significant updates in the last four weeks, most notably, the predicted increase of the official cash rate.
Over the last quarter, the slowdown of growth in property prices has turned around, with prices experiencing significant increases throughout September and October.
Let's take a closer look at some of the recent financial and property news from the last few weeks.
Official Cash Rate Raised
We knew that an OCR increase was in the pipeline, although many assumed that the recent lockdowns might delay the decision a little longer.
However, the Reserve Bank (RBNZ) were confident in their reasoning and raised the Official Cash Rate (OCR) for the first time since 2014 – doubling it from 0.25% to 0.50%.
The increase came with a name change, too. Instead of being called the OCR, it's now referred to as the Monetary Policy Review (MPR).
The RBNZ's Monetary Policy Committee cited strong economic growth, full employment, and rapidly increasing inflation as reasons for the increase.
"While the economy contracted sharply during the recent nationwide health-related lockdown, household and business balance sheet strength, ongoing fiscal policy support, and a strong terms of trade provide confidence that economic activity will recover quickly as alert level restrictions ease. Recent economic indicators support this picture." [source]
Economists predict this will be the first of several increases to occur over the next six months, bringing the MPR up to 1.5%. The Reserve Bank confirmed that more rates rises were on the way but gave no details.
Banks Increased Floating Mortgage Rates
As expected following the announcement of the rise of the OCR, banks throughout New Zealand hiked up mortgage and term deposit rates. [source]
ANZ increased its floating rate by 15 basis points and raised some savings accounts rates by up to 10 basis points.
In an effort to support struggling businesses, ASB announced its "committed to holding its base business interest rate through to the end of 2021."

Their home lending rate remains the same at 4.45%, but they are increasing the rates on savings plus and headstart savings accounts.
Kiwibank was next to announce increases to mortgage and savings rates, with many lending rates increasing by up to 25 basis points. They are also raising term deposit rates for terms between four months and five years.
Westpac has added the full 25 basis point rise to its floating mortgage rates and is increasing some savings rates at the same time. [source]
Fixed Mortgage Rates
Prior to the change in the OCR, we had seen fixed term rates begin to creep up. So, it is probably time to wave goodbye to the ultra low rates we have enjoyed to date.
Chief economists are predicting that the rise in the MPR "could push retail rates that are currently 2% to 4% to between 4% and 6%. That could be a shock to people who were new to home ownership and had never lived through a rate hiking cycle.

"The era of ultra low interest rates is definitely behind us."  [source]
Slowly but surely, we are seeing the rates increase. Since September, ANZ have raised their one-year special rate from 2.55% to 2.79%, their two-year rate from 2.95% to 3.49%, and their three-year fixed term rate from 3.25% to 3.49%. The other banks have all made similar changes.
So, what does that mean for mortgage holders? Well, it confirms that now is the time to review your current mortgage structure to see if it is right for you.
 Rates will continue to rise, so it may be the right time to lock in some interest rates.
But, this should not be done without the right advice. So, reach out to us today for a no-obligation chat about your financial situation.
House Prices Are Rising Again
According to Quotable Value, house prices are on the rise again. [source]
From June to July, the property market saw a slight levelling in growth, leading experts to believe that the unprecedented growth was slowing down.
But the latest figures reveal otherwise.
The national average house price is now $977,456.
In Auckland, the average is $1,391,598.
That's an increase of $14,410 in just one month. Since January this year, the average value of all NZ homes has increased by $138,826. [source]
David Nagel, general manager of QV, attributes the recent rises to the Covid lockdown in Auckland.
"Ongoing lockdowns are continuing to impact the number of fresh listings, particularly in Auckland, and this has possibly contributed to another strong month of value growth, with buyers continuing to vie for limited stock."
But the increases are not only limited to Auckland. Queenstown Lakes saw the biggest value gain of 9.4%, followed by Christchurch at 7.7%. While no urban area experienced a decline, some of the increases were less significant, with Rotorua having the lowest growth rate of 0.8%.
In spite of these figures, experts still predict that things will slow down over the next six months, particularly as lockdowns are eased and life returns to "normal."
What Does The Latest Finance And Property News Mean For You?
For some people, the OCR rise is good news, while others may be feeling the pressure.
We understand that everyone has different financial needs and goals, and we are here to help you make the best plan for your future according to what's happening now.
If you'd like some advice on what the latest news means for your finances and investments, contact us today.
Reach out to us here Oliver Broomfield Mortgages & Insurances (oliver@obmi.co.nz) and we can help you understand what they are.
Contact one of the most experienced Mortgage Brokers in the country