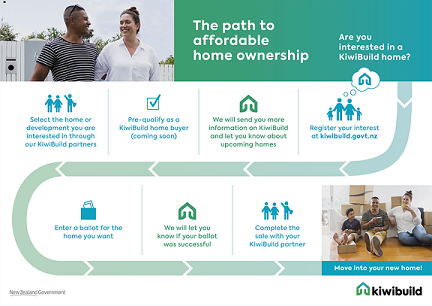 Next steps to a KiwiBuild home
Thank you for registering your interest in KiwiBuild, just like thousands of other Kiwis who want to buy an affordable home of their own.
Later this month, you'll be able to take the next steps towards owning a home through the online 'pre-qualification' process. This will help us determine if you are eligible to enter a KiwiBuild ballot.
Once the pre-qualification stage opens, you'll be given plenty of time to get your documentation together before the ballot opens for the first KiwiBuild homes.
Remember, KiwiBuild is about the Government working with the private sector to build modest, starter homes for New Zealanders. It's a long-term project and we'll keep you informed every step of the way.
Some of you have been in touch and we thought it would be a good idea to share some of the more commonly asked questions.
Where are the first homes being built?
The first homes are under construction in Papakura, South Auckland and will be balloted later this year. If this is an area you are interested in, you might want to think about preparing the documentation to pre-qualify. In the coming months, we'll let you know about further KiwiBuild projects in Auckland and other regions, and we'll keep you up-to-date when more homes become available.
Remember, there is no advantage in rushing to pre-qualify for a KiwiBuild home. The best option is to wait until we announce a ballot that you're interested in, and then you can begin the pre-qualification stage.
Do I need a deposit and pre-approval for a mortgage to buy a KiwiBuild home?
Yes. Buying a KiwiBuild home is similar to buying a home on the open market and you will need to go through the same process as any first home buyer. You'll need to prove to a mortgage provider that you can afford a mortgage and have enough money saved for a deposit. Everyone's financial circumstances are different, so we recommend you seek financial advice about what might suit you best.
How many properties are there in the first ballot?
The first ballot will have a relatively limited number of homes. These will be the first KiwiBuild homes built, but more homes will be available later this year and early in 2019. Remember, KiwiBuild is a ten-year project and homes will be built throughout this period.
What will I need to do to complete the pre-qualification process?
The pre-qualification application process will ask you for some documentation including:
Proof from Inland Revenue (IRD) that your income is below the KiwiBuild limit
A copy of your passport or citizenship/residency documents
A signed declaration, witnessed by a Justice of the Peace or lawyer, that states you are providing true and accurate information to be assessed by KiwiBuild
How long will my pre-qualification remain valid for?
It's valid for six months from the date you pre-qualify. We will send you a reminder to update your details two weeks before they expire. Once again, our advice is to complete the pre-qualification stage only when you have identified a KiwiBuild home you want to buy.
If you'd like more information about KiwiBuild you can visit the KiwiBuild website or view The Pathway to Home Ownership.