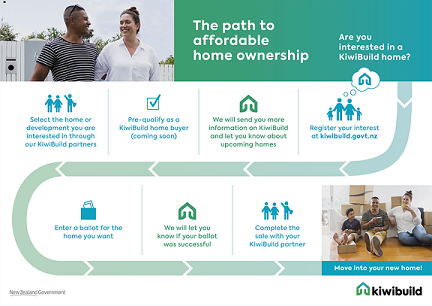 Kiwibuild Homes – The path to affordable home ownership.
The first step is to check whether you're eligible for a KiwiBuild home.
When we get closer to KiwiBuild homes being available for potential buyers, we'll open the pre-qualification process.
To pre-qualify, you'll need to provide details and supporting documentation to the KiwiBuild Unit to assess and confirm your eligibility.
If your eligibility is confirmed, you'll then be able to enter a ballot for KiwiBuild homes that fit your requirements, as they become available.
The people whose names are drawn from the ballot will get the first opportunity to buy.
More information about the pre-qualification and ballot process will be available as our programme of housing developments progresses.
Where will KiwiBuild homes be built?
At least 50,000 KiwiBuild homes will be built in Auckland, to help meet the growing demand for housing stock in our biggest city.
Outside of Auckland, our initial focus will be on areas with high housing demand and affordability pressures (such as Wellington, Hamilton, Napier-Hastings, Queenstown-Lakes District, Tauranga, Whangarei District and Nelson-Tasman).
How much will KiwiBuild homes cost?
The price caps for KiwiBuild homes have been designed to cater to a diverse range of households. They also reflect regional variations in land prices and development economics.
These are price caps only – not targets. KiwiBuild homes will be delivered below these price points wherever possible.
Price caps for Auckland and Queenstown
| | |
| --- | --- |
| Number of bedroom | Price cap (including GST) |
| One (including studio and one+study ) | $500,000 |
| Two | $600,000 |
| Three or more | $650,000 |
Price caps for areas outside of Auckland and Queenstown
The price cap for KiwiBuild homes outside of Auckland and Queenstown is $500,000 (including GST).
Further work is being undertaken to identify whether this price cap can be further broken down by bedroom numbers, or adapted to better reflect other regional variations.