Autumn brings cooler mornings and evenings, but is it also bringing a cooler property market with it?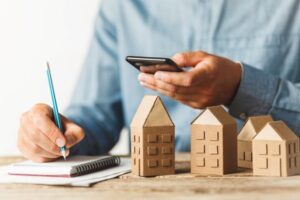 We've definitely seen a shift in the way the market is behaving.
But, what does that mean for you?
And, what impact has the change in lending regulations had on New Zealanders?
Let's explore the answers to those questions now.
Interest Rate Update
It wouldn't be a monthly roundup without some information about what interest rates are currently doing! So, here is the lowdown:
Longer-term interest rates are continuing to rise. Back in March 2021, the average 5-year rate was 3.78%, in February this year, it was 5.47%. Now, the main banks have 5-year rates between 5.69% and 6.09%.
With rates trending upwards, it is definitely time to consider what this means for your repayments. "For borrowers with a $500,000 home loan, the difference between those two rates is just over $220 a fortnight, on a 25-year loan term." [source]
The best thing to do is to seek advice from an experienced mortgage broker, like the team here at Oliver Broomfield Mortgage & Insurances. We can help you look at your current financial situation and how any rate changes could affect your repayments.
CCCFA Drafted Changes Revealed
According to credit reporting agency Centrix, mortgage applications are down 19% year-on-year.  Inflation, rate hikes, new lending restrictions and uncertainty over Omicron were all highlighted as reasons. [source]
Particular mention was made of the Credit Contracts and Consumer Finance Act (CCCFA) which, as we've previously highlighted, has caused some issues with lending applications. Currently, under review, the proposed changes have been drafted:
Excluding savings and investments from "listed outgoings"
Living expenses are benchmarked against statistical data rather than the need to trawl through bank statements
More trust that borrowers will modify their spending if needed to meet mortgage obligations (as they have always done in the past)
Other changes refer to issues like a borrowers' 'reasonable surplus', and any 'obvious' affordability of a loan
If you are feeling uncertain about your ability to get your mortgage application approved then getting advice from an independent broker can help.
We can recommend a range of options for you and access a number of different lenders.
Are Major Centres Becoming Buyer's Markets?
We've definitely seen house prices skyrocket in the last year. But, after a period of very high prices and difficulty for some home buyers, the latest figures are starting to paint a different picture. They show the market is continuing a downward trend.
Data from realestate.co.nz shows properties in Wellington are taking longer to sell, and sales have also slowed in Auckland. Stock levels are up in most regions which suggest more properties on the market for buyers to choose from.
However, the number of new listings dropped, perhaps as a result of uncertainty over Covid and inflation.
"When inventory is higher than the 15-year long-term average, it shows there is more stock than people buying property," says realestate spokeswoman Vanessa Williams.
"Theoretically, if no new listings came on to the Wellington region market and all existing stock was sold, there would be no houses available to buy in 17 weeks which is longer than the long-term average 15 weeks." [source]
The last Wellington was a buyer's market according to realestate.co.nz was back in June 2014.
Is The Property Market Trending Down?
The latest QV House Price Index also shows the property market is heading down, with the national average value declining for the second month in a row. Ten of the 16 cities and districts measured had a decline, up from just four in January.
While these reports might be encouraging for buyers, property prices are still high. The real estate report notes that average sale prices are still above $1million and demand is still high.
So, what does it all mean? With the borders reopening to certain countries soon and eventually the rest of the world, we aren't sure what the impact will be.  We may see an effect on property prices if Kiwis overseas decide to move back home.
What we do know is that now might be a good time to start looking for a new home, especially if you are trying to get on the property ladder.
If you'd like advice from an experienced mortgage broker to get your options sorted, get in touch.
Are You Leaving Yourself Short For Retirement?
Using part of your KiwiSaver funds has become a common way to afford a new home, particularly for younger people.
But new research carried out on behalf of Te Ara Ahunga Ora, the Retirement Commission, reveals that some younger New Zealanders could be leaving themselves short when it comes to retirement funds. The research used modelling to compare what a person might have in the KiwiSaver after 14 years compared to actual average balances. The difference was many thousands of dollars. [source]
Part of the deficit was attributed to people withdrawing savings early to put towards a first home. Figures from Inland Revenue show that withdrawals for a first home have been increasing year on year.
The lesson to be learned here is that finances need careful planning. While the ability to withdraw from KiwiSaver to buy a home is a great option and has helped many people, it's important to have a plan for how you will grow your retirement fund again to compensate.
It's also vital to make sure you are getting the best value out of your mortgage both when you first buy and in the future if your circumstances change.
If you'd like to chat about your mortgage – whether you are looking to buy your first home or want to make sure you still have the best product for your current circumstances, give us a call, and we'll be happy to chat.
So, depending on your situation, it is always best to seek advice from a mortgage broker to ensure you are making the right move for your individual situation.
If you have questions about any of the ideas raised here or just want financial advice you can trust, get in touch with Oliver Broomfield Mortgage & Insurances today.