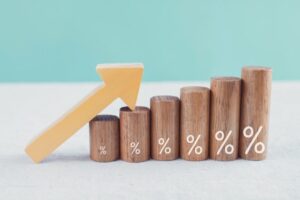 Even if you don't have your ear to the wall in the finance and property world, you'll have heard whispers about the state of the economy in New Zealand lately.
It's hard to avoid, with inflation rates soaring, mortgage rates continuing to increase month by month, and the long-awaited loosening of restrictions bringing hope of economic recovery.
This month's hiking inflation rates bring trickle-down effects to mortgage rates and attempts by the RBNZ to balance that booming housing market.
So, what does it all mean for you?
Let's take a look at the most important things you need to know this month.
Inflation Rates Are Forecast To Rise Dramatically
So far this month, business news has been focused on the rapidly rising rate of inflation in the country. The biggest banks in the country are all predicting significant increases over the next six months, and forecasting additional hikes to the OCR.
ANZ predicts inflation will hit 5.8% before March next year and estimates an OCR increase to 2% or higher. [source]
What does it all mean? How does a rise in inflation rates actually impact you?
Well, things start to cost more. Kiwis are feeling the pressures of the inflation rates rises already, with costs for construction, petrol, food, and consumer goods soaring over the last six months.
But brace yourself as economists are saying the worst may be yet to come.
ASB estimates a peak inflation rate of up to 6% by the end of this year. If we hit this number, it will be the highest annual rate the country has seen in over 30 years. [source]
While ASB predict the OCR to rise to 2%, Westpac is forecasting an even higher number of 3%, saying that a 2% OCR will not be enough to balance the inflationary pressures. [source]
If the economists prove to be correct, as consumers, we need to start making adjustments to our daily spending habits now.
The older generation may have lived through higher mortgage rates but those that have bought homes in the last 5 years have not. They may find the going tough if their spending habits are not changed.
It's time to be mindful of the fact that the cost of everyday living items is rising. So, make considered decisions whenever your finances are concerned. If you need some advice in this area, then reach out to the team today.
Mortgage Rates Increase Again
With rising inflation rates come higher mortgage interest rates.
Westpac followed up last month's increases with further bumps to their six month fixed rate and 3 to 4 year carded rates. [source]
ANZ upped fixed mortgage rates by 10-30 basis points, and ASB followed suit. They made news by bringing back a two-year rate of 4.15% – the first time a two-year rate has topped 4% since March 2019.
Kiwibank later followed, hiking their three-year fixed rate to 4.49%, the highest of any bank for that term. [source]
What does that mean for the housing market? Most likely, further mortgage rate increases. "Many households are highly indebted after taking on massive mortgages during a year where house prices rose more than 30%, so even a small increase in interest rates will have a significant impact for those households," says ANZ chief economist Sharon Zollner. [source]
While you might be feeling some concern as a mortgage holder, it's important to note that the effects may not be felt immediately. Research from the RBNZ indicates that the real impacts of the OCR increases may not be felt for at least another six months as lenders roll off their fixed mortgage rates. So, there is time to act now.
If you are already feeling stretched by your debt, then there may be a way that we can restructure your lending. We are still able to secure discounts off most of these rates, so reach out to us today for a no-obligation chat.
Debt-To-Income Limits On The Horizon
We just mentioned that interest rates are on the rise. So, in an attempt to mitigate the effects of faster than expected rises, the Reserve Bank is considering debt serviceability restrictions in the coming months.
Later this month, it will begin consulting with lending institutes about debt to income (DTI) limits on loans.
These measures limit the amount of money people can borrow under a debt-to-income ratio.
Although Loan to Value (LVR) tools are already in use and are currently being tightened up, DTIs are another tool that can be used to balance the risks to the market.
"DSRs complement current restrictions on housing lending at high LVRs and would provide an additional way for us to address financial stability risks related to the housing market," said RBNZ.
"LVR limits lower the likelihood that a borrower would be in negative equity following a house price decline, while DSRs build borrowers' buffers against serviceability shocks, such as a rise in interest rates." [source]
While implementing a DTI limit may take up to six months, some banks already use them, such as ASB, and more recently, BNZ. Earlier this month, BNZ set its DTI limit at six times the amount of money that is earned by a borrower. [source]
If you are concerned about how this might impact your plans for future lending, then we can help you determine what you may be eligible for. Get in touch with us to find out more.
Will The Housing Market Crash?
Although the housing market has experienced rocket-like growth over the last year, and continues to increase, economists are warning of a substantial slowing of the growth in the months ahead, with house prices declining significantly in the second half of 2022. [source]
"As mortgage rates rise, we expect to see a substantial slowing in house price growth over the coming months, turning to modest price declines by the second half of 2022," says Westpac acting chief economist Michael Gordon.
"Even then, the recent rate of increase has been so dramatic that, on our forecasts, it could take a few years just to get house prices back to where they were at the start of this year." [source]
While a crash is unlikely, there are plenty of pressures on the economy right now.
Experts continue to warn investors not to put all their investment eggs into the housing market basket.
On the flip side, we are having lots of Kiwis returning home with many wanting to buy property. This is putting additional pressure on the housing shortage that we are already experiencing.
This additional demand may be what stops any significant reduction in house prices.
For many, residential property remains a good investment option.
So, if you are considering an investment right now, reach out to us here at Oliver Broomfield Mortgages & Insurances.
Contact one of the most experienced Mortgage Brokers in the country